Pokemon is a media franchise managed by The Pokemon Company. It is a Japanese company created by Satoshi Tajiri in 1995. The original name of the franchise was Pokemon Monsters Red and Green with an English slogan 'Gotta Catch 'Em All'. There are various Pokemon video games available such as Pokemon Monsters: Red and Green, Pokemon Monsters: Blue, etc.
The company also created Pokemon anime series and films including Pokemon: Original Series, Pokemon: Advanced Generation, Pokemon: Black and White, and many more are there. Pikachu and Ash are the main characters of the series. Learn more about Pokemon and its media series in the given Pokemon Trivia we have made for you.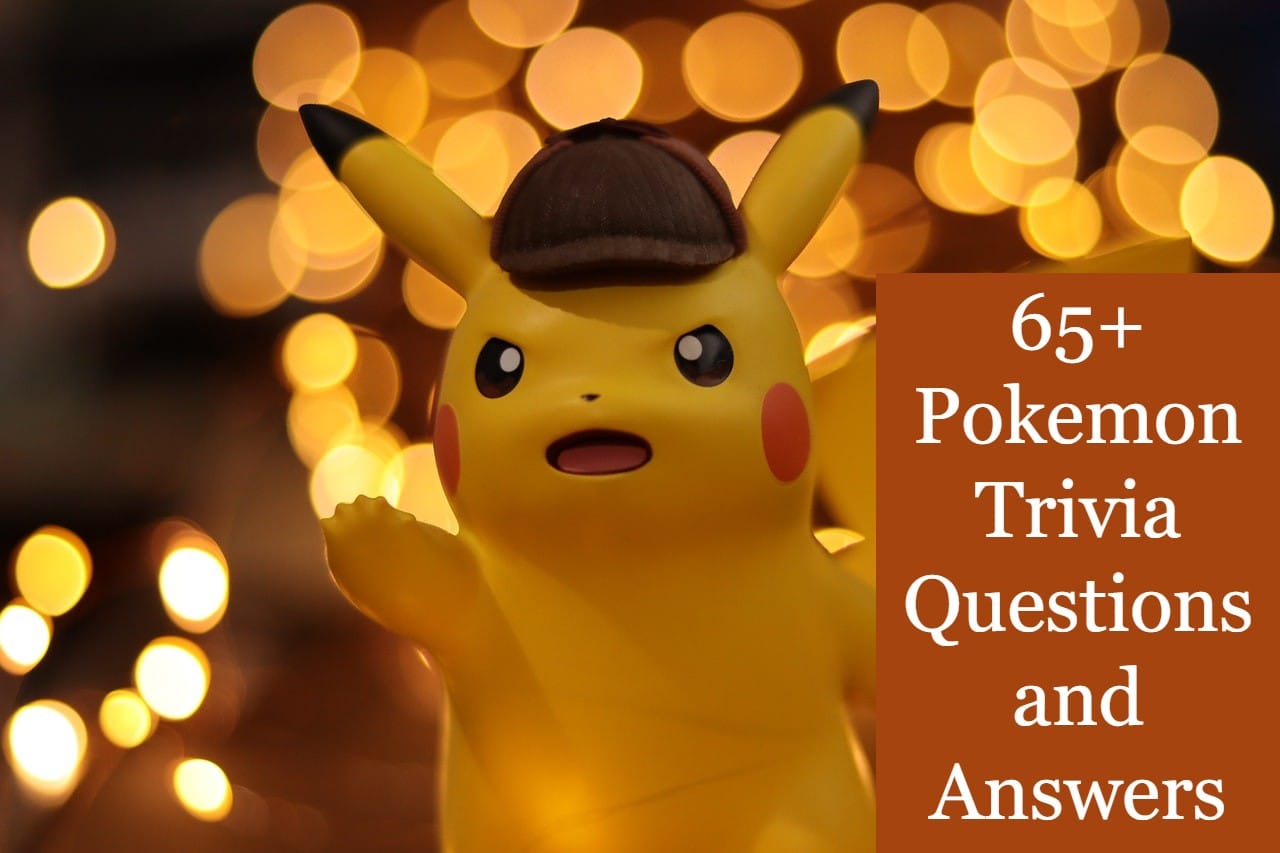 Pokémon Trivia
1. Who created Pokémon?
2. What does Pokémon known as in Japan?
3. Who manages the media franchise 'Pokémon'?
4. When the franchise was created?
5. What is the English slogan for the franchise?
6. What was the original name of the franchise?
7. What does Pikachu do in the game Pokémon Yellow?
8. Where you can easily find wild Pokémon?
9. How you can bring a smile to Pikachu's face in Pokémon video games?
10. Where a Pokémon can be healed free?
Pokémon Trivia 2019
11. Who is Pokémon Gym leader?
12. In 2019, which Pokémon series was directed?
13. When the film was released in Japan?
14. Who directed the film?
15. Who voiced the detective Pikachu?
16. When Pokémon made its first debut?
17. What is the full name of Ash?
18. What does the new Pokémon anime called?
19. How many legendary Pokémon appeared in Generation IV?
20. What are legendary Pokémon?
You can also enjoy reading these 90+ college football trivia questions and answers.
Various types of Pokemon appeared in video games and films such as Pokemon Yellow, Legendary Pokemon, Dragonite Pokemon. The legendary pokemon is the most powerful one that is very rare. The first legendary Pokemon Articuno, Zapdos, and Moltres were introduced in the Kanto region. In Pokemon Generation IV nine legendary Pokemons appeared.
Pokémon Trivia 2018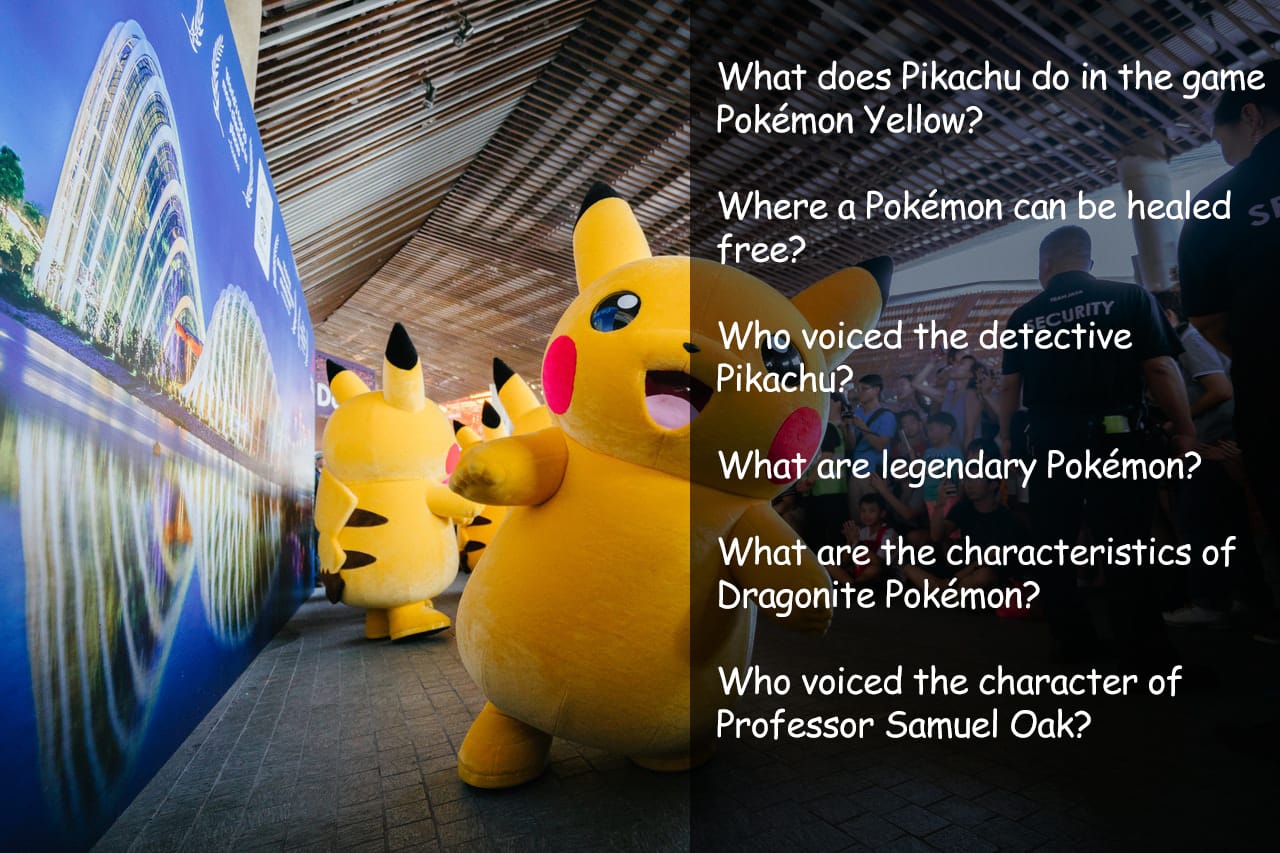 21. Who is the first legendary Pokémons?
22. Where they were introduced?
23. In which year the Pokémon Yellow version released?
24. Who developed the Pokémon Yellow role-playing video game?
25. Where it was first released?
26. When the video game was released in Australia and North America?
27. How many basic screens are there in Pokemon Yellow?
28. What are the names of the screens?
29. What is HP in the game?
30. What happens when HP becomes zero?
Ultimate Pokémon Trivia
31. What does EXP stand for?
32. What does a Pokémon's level dictates?
33. What are the factors included in determining the success rate of capture?
34. How the success rate of capture becomes higher?
35. What is the ultimate goal of the game?
36. Which game allows the players to trade Pokémon between cartridges?
37. How the trade take place?
38. In which region the Pokémon Red and Blue and Pokémon yellow takes place?
39. How many Pokémon species were featured in Pokémon Yellow?
40. Who created Eevee?
Like Pikachu, Ash also has an important role in Pokemon whose full name is Ash Ketchum. Sarah Natochenny voiced Ash in the animated series. Misty, Brock, Dawn, and Goh are among the companions of Ash who used to travel with him in his journeys. Other characters include the gym leaders Lt. Surge, Allister and Erika.
Pokémon Trivia Bulbapedia
41. Who is the new companion of Ash in Pokémon Journeys?
42. What is Palossand in the anime episode 'A Shivering Shovel Search'?
43. In which episode Stoutland passed away?
44. Who are the main characters of Pokémon?
45. Who voiced Ash Ketchum?
Pokémon 20 Questions
46. How many poke balls are there so far in the Pokémon games?
47. Which poke ball is the most effective one?
48. Where the Pokémon: Twilight Wings featured?
49. Who is the Gym Leader in Pokémon Shield?
50. What was the setting for Pokémon Sun and Pokémon Moon?
51. What type of Pokémon is called Hitmonlee?
52. In which generation these Pokémons were introduced?
100 Question Pokémon Quiz
53. What are the characteristics of Dragonite Pokémon?
54. What is another name of this Pokemon type?
55. What are the weaknesses of these Pokemon?
56. Who was the Gym Leader of Celadon City's Gym?
57. What is the average age of Erika?
58. What is the name of the grandson of Professor Oak?
Pokémon Quiz Unblocked
59. In which Pokemon series he first appeared?
60. What does the Japanese word 'anime' mean?
61. Who was the water pokemon master?
62. She was the Gym leader of which Gym?
63. What is the hair color of Misty?
64. In which Pokemon video she first appeared?
65. Who voiced the character of Professor Samuel Oak?
If you want to read about more cartoon characters then visit 60+ entertainment trivia questions and answers
So friends did you enjoyed these Pokemon Trivia questions? please let us know by using comment section of the post.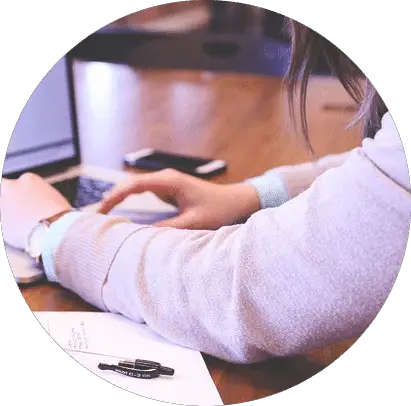 A Master in Economics having over 8 years of field experience. I am also a pro blogger loves to write articles for different blogs post related to kids, Christmas, harry potter, movies, and animals.