An American teen comedy film Mean Girls was released in 2004 and grossed $130 million worldwide. Mark Waters was the director of the film and was written by Tina Fey. Fey also depicted her own experience at Upper Darby High School. As a motivation for some of the thoughts in the story, she defines female high school social gangs and the negative effects they can have on girls.
The Mean Girls lovers can only enjoy this session of trivia. Just guess the answers to the questions and check your knowledge about Mean Girls.
Mean Girls Trivia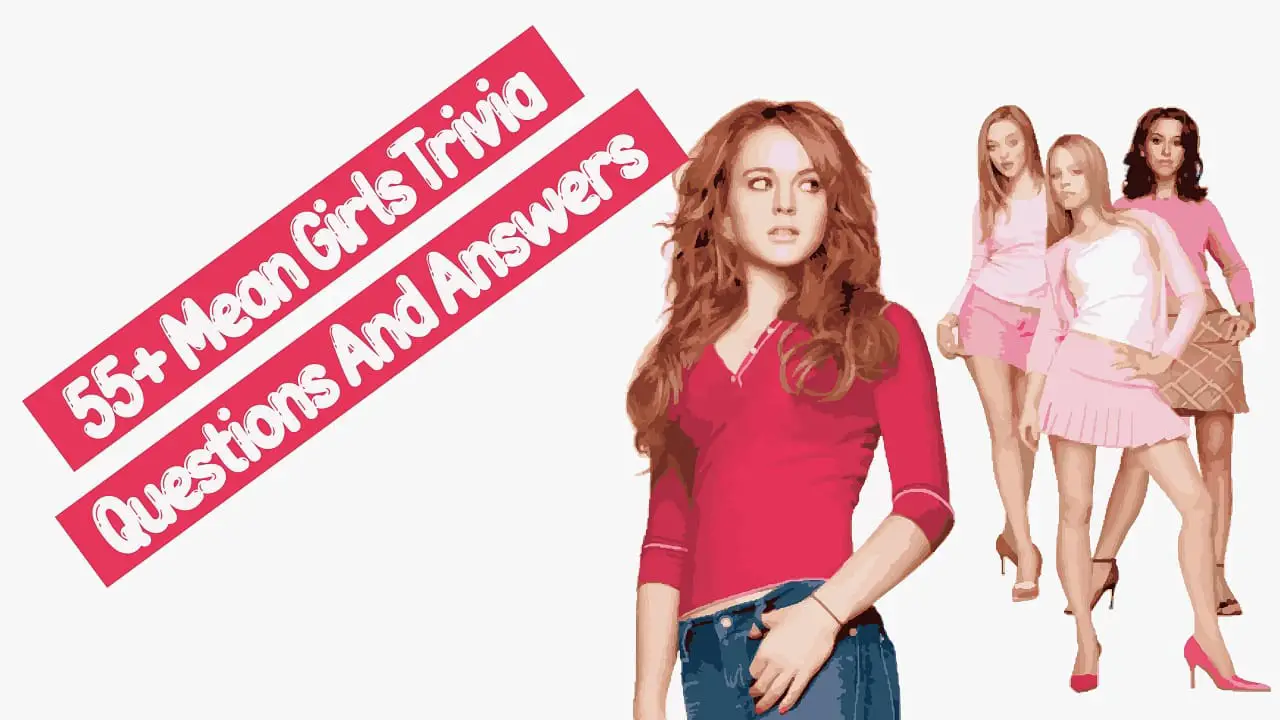 1) Who is the scriptwriter of Mean Girls?
2) Who was the first student to say something nice to Cady at school?
3) What does Ms. Norbury teach at school?
4) Gretchen gives an oral presentation on which Shakespeare plays?
5) What is the name of the school Cady has joined?
6) Who was the principal of North Shore High?
7) Which student distributes candy canes before the Winter Talent Show?
8) Which subject does Cady skip on the first day of school?
9) What was the nickname of Regina George's group?
10) What subject does Cady mostly excel at?
Want to know about Forest Gump trivia?: 65+ Forest Gump Trivia Questions and Answers
Which mean girl are you most like quiz?
11) What is the thing on which Mean girls are often overly concerned?
12) Who is the dumb mean girl?
13) Which character has two defining qualities of being a dubious "Toaster Strudel" fortune, and having many "secrets"?
14) Which character is intelligent, especially in math?
15) Which of the Cady describes as a living Barbie doll?
16) Who at the end of the film starts hanging out with the "cool Asians" clique?
17) Who is the blonde girl's in Mean Girls?
18) Who is the leader of "The Plastics"?
19) Which character Cady meets at school, along with Damian?
20) Who is hit by a bus toward the end of the film?
Cady is the film's protagonist, a naive teen girl who has been homeschooled for 12 years while living in Africa with her research zoologist parents. Her first day in an American public high school is a "trial by fire" introduction to the treacherous world of cliques and hierarchies that have already been formed before her arrival. Cady is intelligent, especially in math.
Mean Girls Cast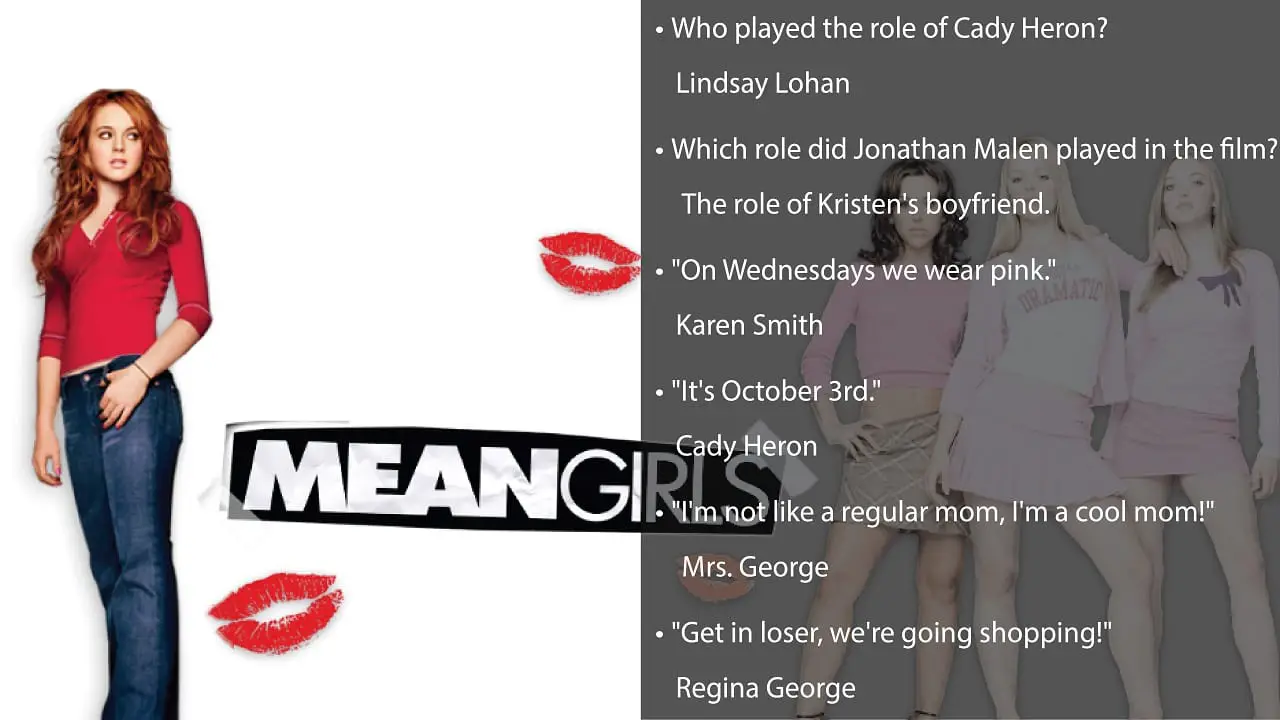 21) Who played the role of Cady Heron?
22) Who is appeared as Principal Ron Duvall in the film?
23) Which character is the airhead best friend of Regina and Gretchen?
24) Who appeared as an insecure rich girl and a member of the Plastics who only wants Regina's acceptance?
25) Which role did Jonathan Malen played in the film?
26) Who is Damian's best friend and Regina's ex-best friend?
27) Which cast is shown as the "hormonal Mathletes president" who is attracted to Janis?
28) Who is Ms. Sharon Norbury, whom the Burn Book defames as a drug dealer?
29) Who is the school's physical education teacher whom the Burn Book exposes as a sex offender?
30) Who has joined the lacrosse team to channel her anger in the epilogue of the story?
Most of the time we remember the cast or character through their sayings or quotes. Can you guess the characters through their quotes?
Want to know about Valentines trivia?: 75+ Valentine's Day Trivia Questions and Answers
Mean Girls Quotes
31) "On Wednesdays we wear pink."
32) "It's October 3rd."
33) "I'm not like a regular mom, I'm a cool mom!"
34) "Get in loser, we're going shopping!"
35) "I can't go out tonight. I'm sick."
36) "Four for your Glen Coco! You go, Glen Coco!"
37) "It's like I have ESPN or something!"
38) "You could try Sears."
39) "Oh my God, Danny DeVito, I love your work!"
40) "Made out with a hot dog? Oh my god, that was one time!"
Some famous lines by the main characters are given below. Complete the lines by focusing on the characters. This part will tell you which character you followed the most.
Mean Girls Quote Quiz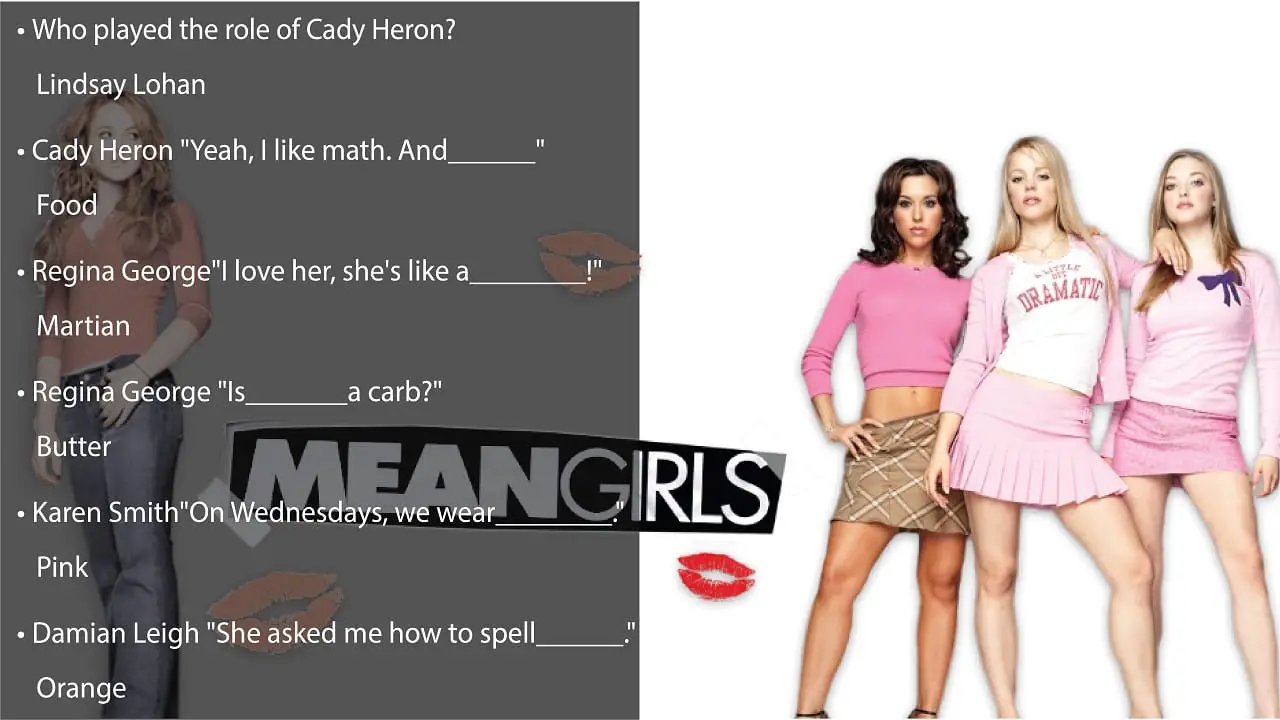 41) Cady Heron "Yeah, I like math. And______"
42) Regina George "That's the ugliest effing_______I've ever seen".
43) Regina George"I love her, she's like a________!"
44) Regina George "Is_______a carb?"
45) Gretchen Weiner "Oh my god, Karen, you can't just ask people why they're______!"
46) Gretchen Weiner "You let it out, honey. put it in the________"
47) Karen Smith "So if you're from_______, why are you white?"
48) Karen Smith" On Wednesdays, we wear________."
49) Ms. Norbury "Oh, hi. Did you want to buy some_______?"
50) Damian Leigh "She asked me how to spell_______."
Want to know about Summer trivia?: 75+ Summer Trivia Questions and Answers
Random Mean Girls Trivia
51) Who cheers Cady to try out for the Mathletes?
52) Which character plays Regina George's mom?
53) Who teases Cady about having an affection towards Kevin Gnapoor?
54) Which song did The Plastics performed at the Winter Talent show?
55) Which character plays piano at the Winter Talent Show?
56) Which song did Damian perform at the Winter Talent Show?
57) Who called an emergency assembly in the gymnasium after Regina leaks the Burn Book?
58) To whom does Cady say "grool"?
59) What is the title of the math club that Cady ultimately joins?
60) Who is the cruelest mean girl?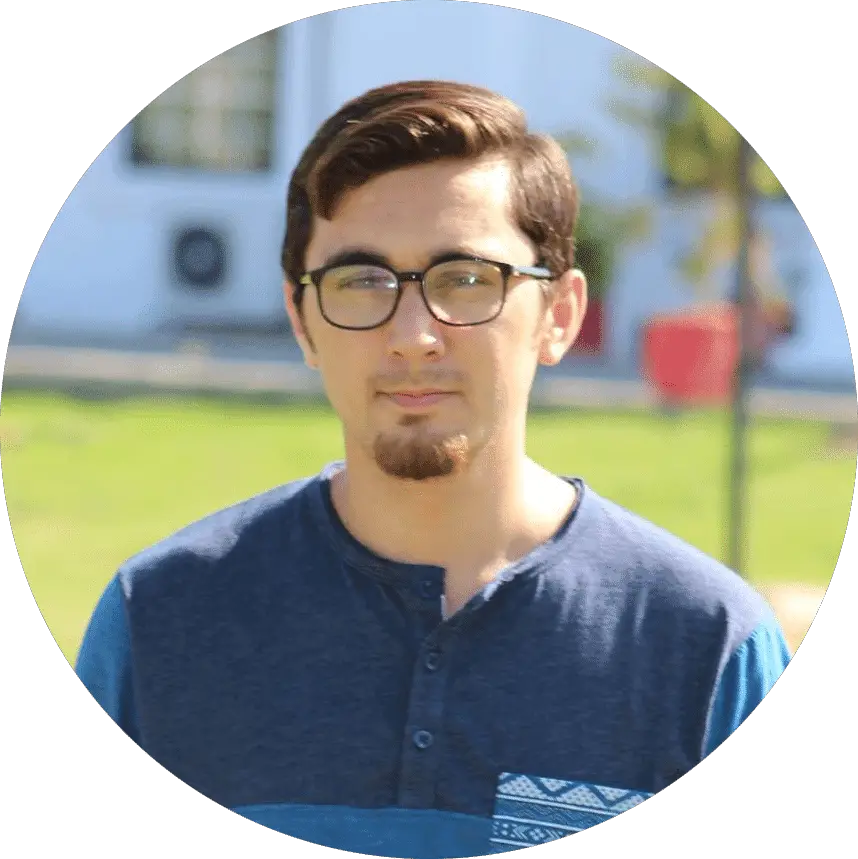 A computer graduate who has 16 years of education and 5 years of working experience in the field. I am a professional writer also and can write amazing articles in the following categories: sports, movies, and animals.