Looking for random trivia questions for high schoolers that are engaging and inspiring? You've arrived at the proper location. These random trivia questions will be perfect whether you enjoy quizzes yourself or are seeking a good, cost-free pastime for youngsters.
Youths have an enormous amount of knowledge—often even more than adults! They have been attending school for a while and daily acquire new knowledge. We created these teen-friendly random trivia questions for this reason. They were created to be precisely the proper difficulty level for an adolescent. Some are rather simple, while others are difficult.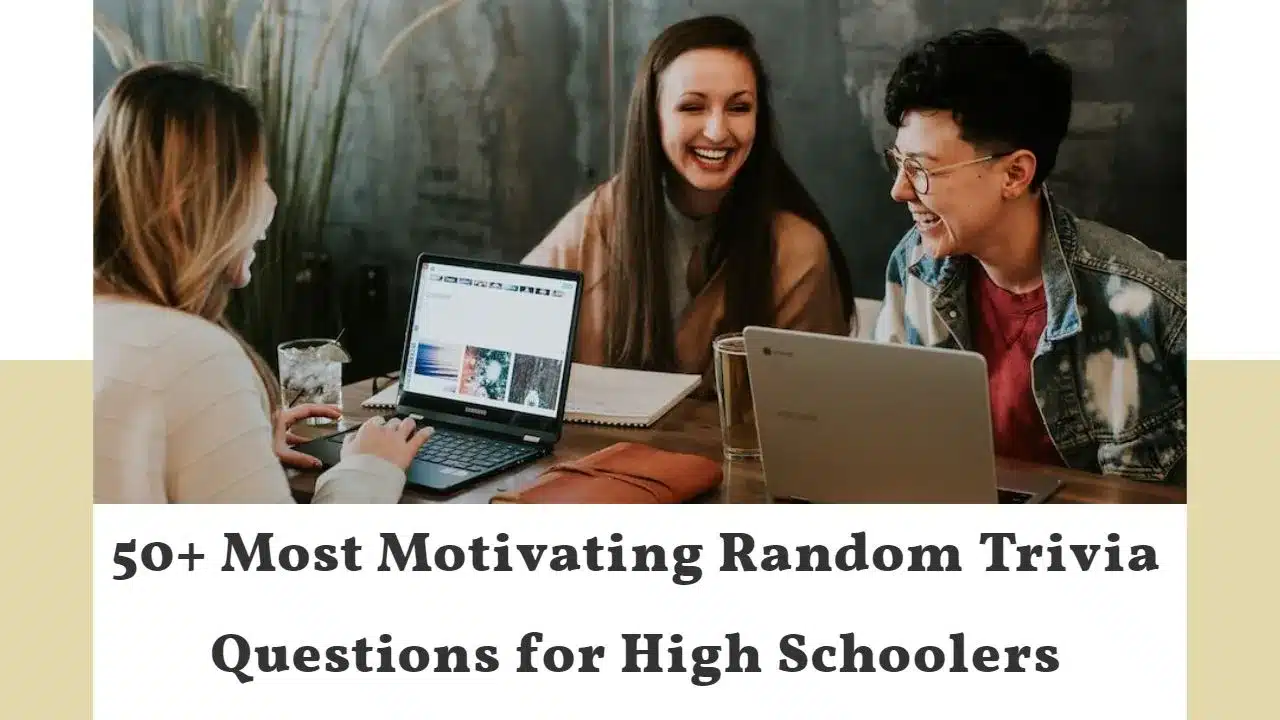 A child's knowledge and confidence may be greatly increased by asking them trivia questions. So why not organize kid's quiz night, take this collection of trivia questions with you when you travel or test your youngster with a new trivia question each day?
Test your kids' knowledge with our knowledge-expanding random trivia questions for kids about history, sports, science, music, world records, and much more. Our selection of kid-friendly trivia questions is unique in that it is a diverse collection of questions that have all been fact-checked.
Random Trivia Questions for High Schoolers
1. How many keys are on a standard piano?
2. How many toes does a cat have?
3. How many bones are in the human body?
4. What is the world's tallest tree?
5. How many minutes are in one week?
You may like this: Most Important 60+ Random Trivia Questions for Middle Schoolers
6. In what year were the first known Olympic Games held?
7. How many players are on a regulation soccer team?
8. What is the name of the Simpson's next-door neighbor?
9. What film was Tim Burton's first film to direct?
10. What was the first color movie?
11. What national holiday is celebrated in all countries?
12. Which country has the most World Heritage Sites?
13. What is the busiest cruise port in the world?
14. How tall is the Eiffel Tower?
15. What is the world's tallest mountain?
Also check out: 50+ Exciting Easy Random Trivia Questions and Answers
16. What is the largest and deepest ocean on Earth?
17. What is the capital of the United States of America?
18. What is the capital of France?
19. What country makes up most of the island of Borneo?
20. What is the capital of Canada?
Random Trivia Questions for Middle Schoolers
21. What is the official language of Brazil?
22. What is the world's largest island?
23. When did the United States enter World War I?
24. Who is Harry Potter's arch-nemesis?
25. What is the name of Luke Skywalker's sister?
Click here to read: 50+ Most Random Trivia Questions with Answers
26. What is the name of Taylor Swift's third album?
27. Which author wrote 'Animal Farm'?
28. What is the capital of Australia?
29. Who wrote the book 'Brave New World'?
30. Which two Japanese cities were bombed on 6 and 9 August 1945?
Random Trivia Questions for Kids
31. Who created Star Wars?
32. Which actress played Regina George in 'Mean Girls'?
33. Who played Danny in Grease?
34. Which country is Justin Bieber from?
35. What is the capital of Scotland?
Also try this: 60+ Random Trivia Questions Everyone Should Know
36. How many pairs of chromosomes do we have in each nucleus?
37. Which country was Charles de Gaulle a president of?
38. The Goulash is the national dish of which country?
39. What are Drumstick squashies?
40. Which country music artist sang 'Walk the line'?
Random Trivia Questions for Primary Schoolers
41. Which River flows through Budapest?
42. Who was the second President of the United States?
43. Who is the highest-paid football player of all time?
44. Who is the fastest man on earth?
45. Who is the fastest rapper in the world?
Don't forget to read: 50+ Random Trivia Questions for Kids with Answers
46. Which US state drinks alcohol the most?
47. Who founded the popular video app Tik Tok?
48. What was the world's search engine before Google?
49. How many moons revolve around Mars?
50. What is the richest state in the US?
Also check out: 50+ Random Trivia Questions for Adults to Improve Your Knowledge