Andy Griffith was an American actor, comedian, television producer, southern gospel singer, and writer. Andy's original name was Andrew Samuel Griffith. His career spanned seven decades in music and television. The character of Andy Taylor rose him to immense popularity on The Andy Griffith Show, which ran from 1960-'68. In the lawyer drama Matlock, he returned to TV and several gospel albums recorded by him. He died in Manteo, Roanoke Island, North Carolina, on July 3, 2012.
Andy Griffith Trivia
1. When did Andy Samuel Griffith born?
2. From which city of North Carolina Andy Griffith belonged?
3. The two stunning roles made Griffith a nominee twice for which award?
4. In 1957, Griffith played his dramatic role in which film?
5. What was Griffith's original name?
6. In which sitcom Andy played the lead roles of Andy Taylor?
7. In the legal drama Matlock (1986–1995), Which role Griffith had played?
8. In 2005, which president has awarded the presidential medal to Andy?
9. What was the name of the recorded gospel album in 1996 that became a hit and won a Grammy?
10. In 1987, for which role he accepted the People's Choice Award?
11. Before becoming an actor what was Andy Griffith?
Andy Griffith show trivia with answers.
12. The show comprises of how many seasons and episodes?
13. The show has 159 episodes in black and white and how many episodes in color?
14. When did the Andy Griffith show broadcast and ended?
15. The Andy Griffith Show was broadcast on which television?
16. What Andy played in the Andy Griffith show?
17. From which episode the series originated partly?
18. After how many seasons Griffith left the series?
19. In which name the Andy Griffith show has retitled?
20. Which two characters replaced Griffith and Howard in Mayberry R.F.D?
21. The new format of Andy Griffith's show had how many episodes?
The Andy Griffith Show is one of only three shows to have its final season be the number one ranked show on television. The other two shows are I Love Lucy and Seinfeld. The year Seinfeld ended in 1998. Approximately the shows reruns on 120 stations watched by five million people a day. Here are some facts you might not know about The Andy Griffith Show.
Andy Griffith Show facts
22. The Andy Griffith Show creator wanted to take Andy's name off the series title, what name he wanted to give it?
23. Who was the first woman to wear pants on The Andy Griffith Show?
24. After the first season of The Andy Griffith Show, who has suffered a debilitating stroke that severely limited the motor function on the left side of his body?
25. Which character wore a bandage on his hand for two episodes of the series after punching a wall?
26. Which character remains a mystery in the Andy Griffith Show?
27. Who was the first black actor to have a speaking role on the show?
28. Who left The Andy Griffith Show because he thought Andy would end the series after five seasons?
29. The name Opie for Andy's son came from which prominent band leader in the 1930's and '40's?
30. Many women may have walked through Andy Taylor's life, but which important person was hardly mentioned on screen?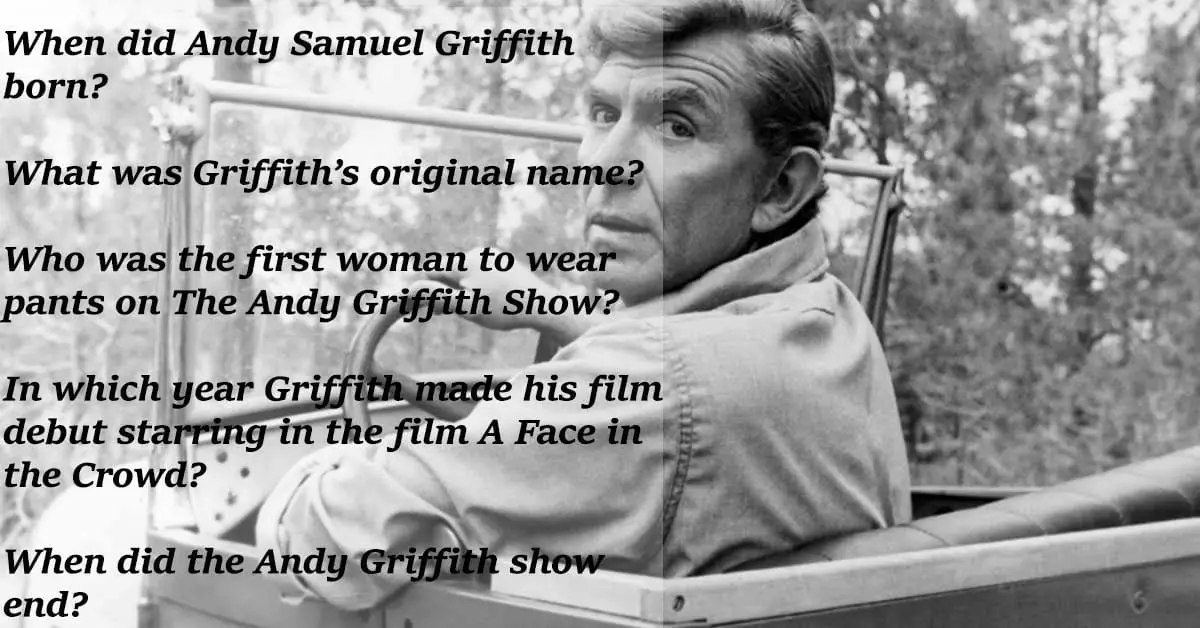 Read more here 75+ Best 2000s Trivia Questions (Events, Innovations, Entertainment)
Andy Griffith Show cast
31. Who was the character, Barney, in Andy Griffith Show?
32. What was the name of Andy's paternal aunt?
33. Which character was the owner/operator of the Fix-it shop?
34. Who was Andy's first girlfriend of the series which was a pharmacist at the drug store?
35. Who was Mayor of Mayberry?
36. Which character has shown as a schoolteacher and Andy's girlfriend in later episodes?
37. Who was the Sheriff and Justice of the Peace of Mayberry?
38. Who has played the role of Barney Fife?
39. Which character was famous as a troublemaking mountain man?
40. Trey Bowden is shown as the friend of which prominent character?
The last things the characters ever said on the Andy Griffith Show were just as interesting. Guess if you can match these final lines of dialogue to the correct character.
Metv Andy Griffith quote quiz
41. "I still play that guitar. It's a Martin D-18 with a clear pick guard. I've played that guitar on and off my TV shows for nearly 50 years."
42. "I felt like a loser. I was unhappy as a child most of the time. We were terribly poor, and I hated my size."
43. "Confidence is preparation in action."
44. "I'm not really wise. But I can be cranky."
45. "I don't think actors get good training today. I put my training to use in everything I do."
46. "I know why they shouldn't be married!"
47. "Alright, class, history now."
48. "Fine… Long time, no see," this person said standing behind a desk.
49. "Yes, sir, I'd do things a lot different if I was running things in Washington, I would."
50. "Anybody here knows why these two should not be wed?"
51. This character got philosophical with this line: "Those of us who chart the course of world events shall forever remain nameless."
52. This character said, "I'm afraid we're going to have to take this just a might slower."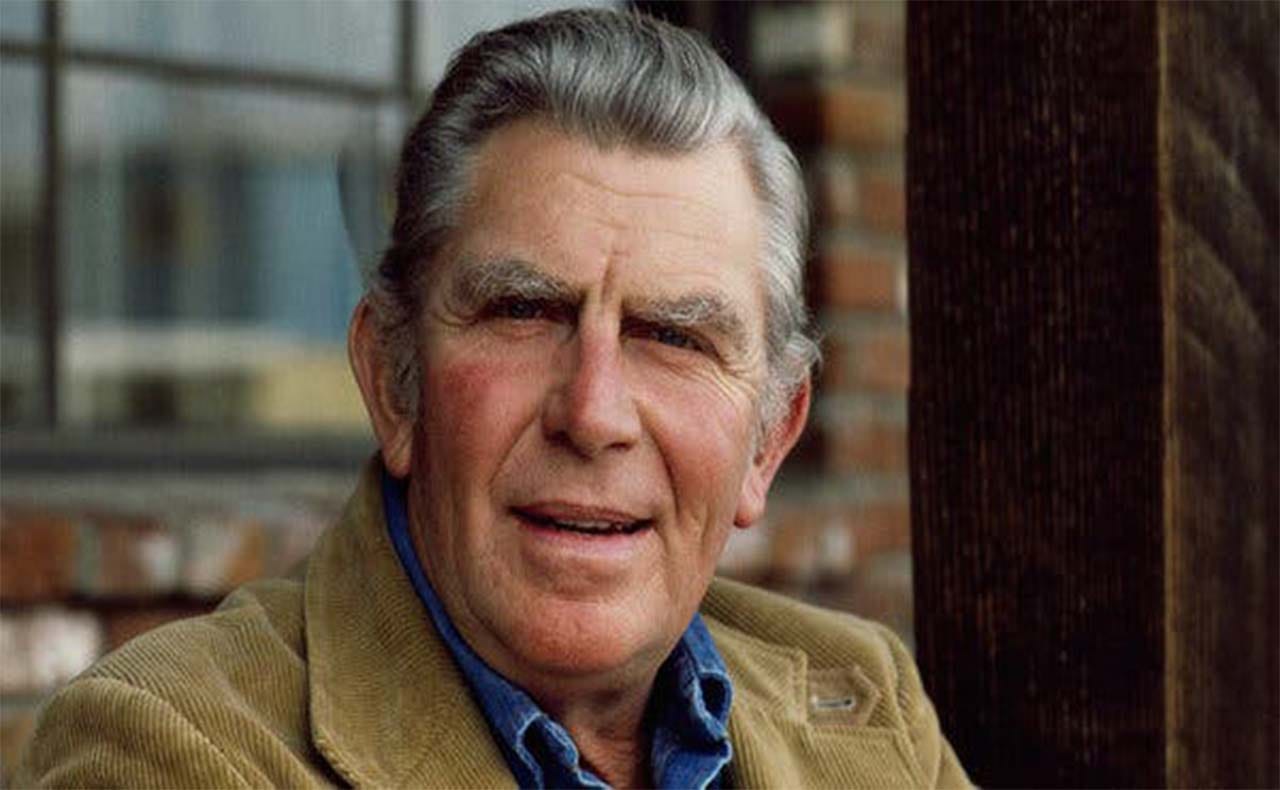 Andy Griffith character quiz
53. As a student at which school, Griffith cultivated an interest in the arts, and he participated in the school's drama program?
54. He attended the University of North Carolina in Chapel Hill, and graduated with a Bachelor of which degree in 1949?
55. In which year Griffith made his film debut starring in the film A Face in the Crowd?
56. When did Griffith first appear on television?
57. When Griffith starred as Sheriff Andy Taylor in The Andy Griffith Show for the CBS television network?
58. When did he start his own production company Andy Griffith Enterprises?
59. Griffith's friendship with whom began in 1955 when they co-starred in the Broadway play No Time for Sergeants?
60. After Griffith's death, who stated: "His love of creating, the joy he took in it whether it was drama or comedy or his music, was inspiring to grow up around"?
61. In October 2008, Griffith appeared with Ron Howard in a Funny or Die video endorsement for which campaign?
Metv quiz Andy Griffith
62. In the first season who was Andy's girlfriend?
63. The actor who portrayed him, Howard Morris, also appeared as George, the television repairman, in which episode?
64. The series plot revolves around whom and his life in sleepy, slow-paced fictional Mayberry, North Carolina?
65. In which episodes Ernest T. Bass made his first appearance?
66. The film A Face in the Crowd was directed by whom?
67. How old was aunt bee supposed to be on the Andy Griffith Show?
Knotts started looking for new work at the end of five years. He signed a three-year picture deal with Universal. Griffith on the other hand wanted to keep doing the show. A new agreement was offered to Knotts by him, but it clashed with the one he had just signed with Universal, so he was enforced to leave the show.
Why did the Andy Griffith show end?
68. When did the Andy Griffith show end?
69. What was the audio format of the Andy Griffith Show?
71. What was the opening theme of the Andy Griffith Show?
72. At the end of five years, which character started looking for new work and signed a three-year picture deal with Universal?
if you want to know about history click on these history trivia questions.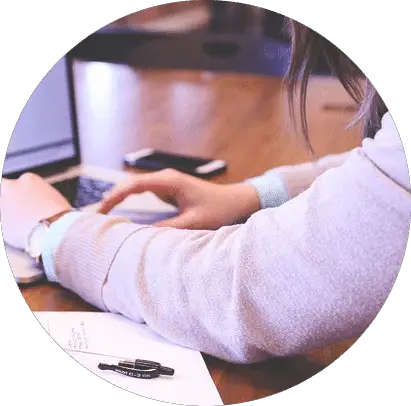 A Master in Economics having over 8 years of field experience. I am also a pro blogger loves to write articles for different blogs post related to kids, Christmas, harry potter, movies, and animals.