The terms "situational comedy" or "sitcom" were not frequently used until the 1950s. The credit for the creation of sitcoms goes to director and producer William Asher from the United States. Although an American sitcom television series has been described as "a show about nothing," often focusing on the intricacies of daily life, Seinfeld is widely observed as one of the biggest and most persuasive sitcoms of all time. This series formed by Larry David and Jerry Seinfeld which exposed on NBC from July 5, 1989, to May 14, 1998, over nine seasons and 180 episodes.
This trivia will examine the knowledge of sitcom lovers. It would rather be surely interesting for those who have eagerly observed all the seasons of the Seinfeld series.
Seinfeld trivia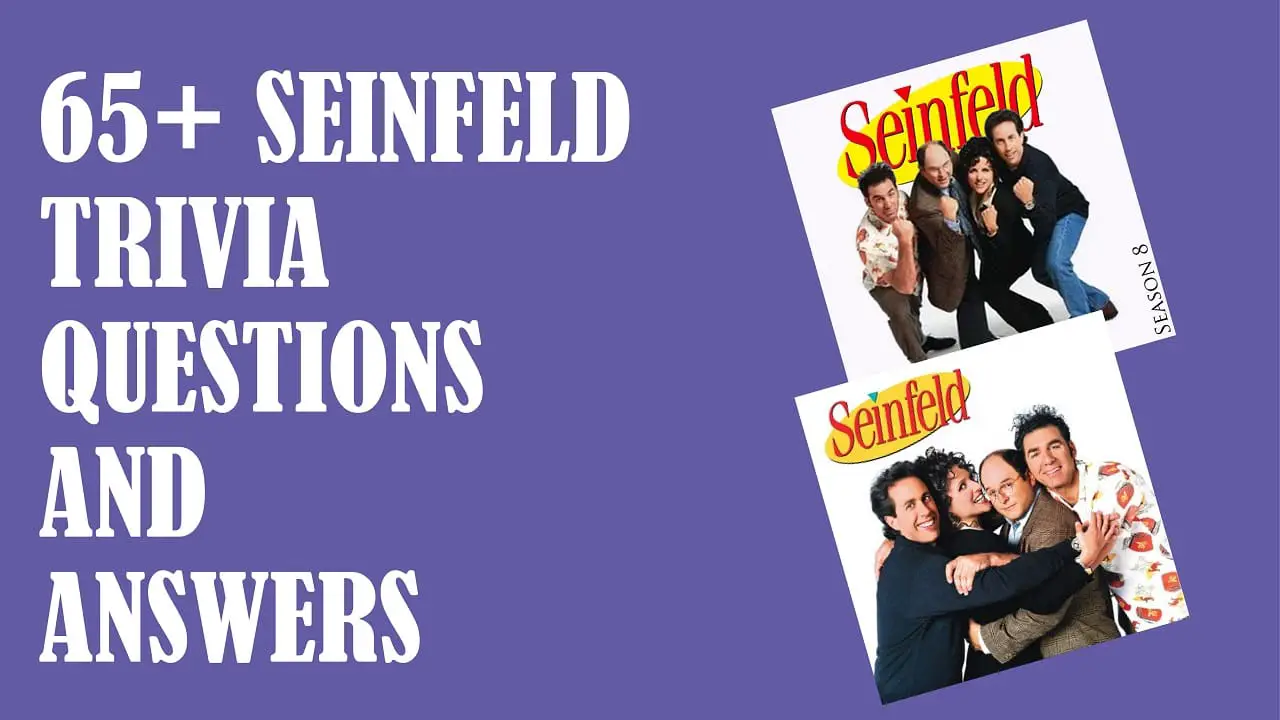 1) Which country has the honor to have sitcom Seinfeld series?
2) How many episodes are there in the whole series?
3) In which genre Seinfeld series is made?
4) What was the running time of the series?
5) Which distribution studio helped to distribute the series?
6) On which network Seinfeld series originally released?
7) How many seasons combine to form the full series of Seinfeld?
8) Who was the theme music composer of the Seinfeld series?
9) Jerry Seinfeld asked whom to help create a premise for a sitcom?
10) Whose apartment is the center of a world visited by his eccentric friends and a focus of the show?
Want to know about country music trivia?: 65+ Country Music Trivia Questions And Answers
Seinfeld trivia night
11) Which famous title often described the Seinfeld series?
12) At which coffee shop Jerry and his friends spend much of their time in the series?
13) What was the name of Jerry and Kramer's landlord?
14) When is Festivus?
15) What was Jerry's apartment number?
16)For which thing the name Golden boy was used in the series?
17)Who was George's favorite explorer?
18) The name "Seven" was planned to give his child by whom in the series?
19) What does Elaine order at the diner in the Bubble Boy's hometown?
20) Mr. Lippman opened a muffin bakery what was the name of that muffin bakery?
Ultimate Seinfeld trivia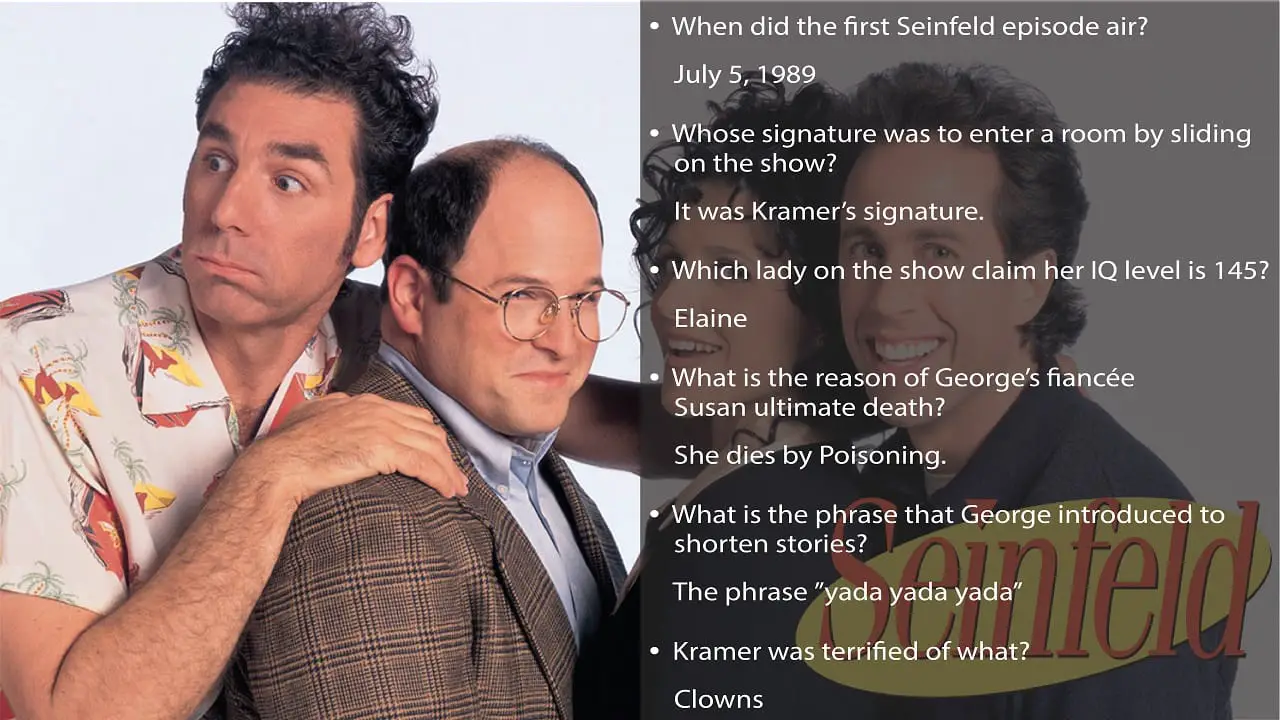 21) When did the first Seinfeld episode air?
22) Who first said the catchphrase "No soup for you!" in the Seinfeld series?
23) Whose signature was to enter a room by sliding on the show?
24) Which lady on the show claims her IQ level is 145?
25) What is the reason for George's fiancée Susan's ultimate death?
26) What is the phrase that George introduced to shorten stories?
27) In one episode who is kept awake by a bright red sign from a Kenny Rogers Roasters chicken restaurant?
28) Which cast member appears in all 180 Seinfeld episodes?
29) In the first episode and last episode, which two characters have a conversation about a button?
30) For the jokes who has convinced the dentist Tim Whatley to convert to Judaism?
The creative concept for Seinfeld wasn't for a constant series, but a one-off, 90-minute special titled "Stand Up that was set to run for one night only in Saturday Night Live's time slot. Here are some facts you might not know about the fabulous sitcom.
Seinfeld trivia facts
31) Kramer was terrified of what?
32) Gandhi was known to have eaten Triscuits before he fasted?
33) Kramer thought he spotted whom in the gym?
34) What was the first appearance of Seinfeld's Kramer?
35) Whom Jerry Seinfeld wanted to play George on Seinfeld?
36) To which museum Jerry Seinfeld donated his infamous puffy shirt?
37) For how many years Seinfeld is moving to Netflix?
38) Every episode of the series except which episode title begins with "The…" and names something from the episode?
39) How many times did Jerry says "Hello, Newman" in the entire series?
40) When the final episode aired in 1998, which network honored the occasion by airing no programming in the show's timeslot?

Seinfeld trivia multiple choice
41) Where is the puffy shirt used in "The Puffy Shirt" episode currently placed?
a) American Museum of Natural History
b) Smithsonian National Museum
c) Cleveland Museum of Natural History
42) In which years Seinfeld aired on NBC?
a) July 7,1980- March 5,1990
b) June 5,1970- October 7,1996
c) July 5, 1989 – May 14, 1998
43) Seinfeld has been described as what?
a) A show about nothing
b) A show about fashion
c) A show about food
44) What was the center of the show rather than the focus of the show, where Jerry's eccentric friends visited?
a) George's farmhouse
b) Jerry's apartment
c) Kramer's coffee shop
45) In the show which character has shown with germophobe and neat freaks?
a) Cosmo Kramer
b) Elaine Benes
c) Seinfeld Jerry
46) Which of the character of the show has been described as a "hipster doofus"?
a) Cosmo Kramer
b) Jerry
c) George
47) Who was Jerry's best friend since high school?
a) Newman
b) George
c) David Puddy
48) Which girlfriend of Jerry appears in the episode "The Stake Out"?
a) Elaine Benes
b) Vanessa
c) Susan Ross
49) When did the show premiere as The Seinfeld Chronicles?
a) On July 5, 1989
b) On June 6, 1980
c) On May 7, 1980
50) Which season was an even bigger rating hit, consisting of popular episodes such as "The Puffy Shirt"?
a) Season four
b) Season eight
c) Season five
Numerous terms were devised, propagated, or re-popularized in the series' run and have become part of the widespread culture such as "Yada, yada, yada", "No soup for you!" and "not that there's anything wrong with that". The vocabulary of Seinfeldian code words and recurring phrases that evolved around episodes is mentioned as Seinlanguage, the title of Jerry Seinfeld's best marketing book on humor. Let's continue with some more interesting facts about Seinfeld to boost up your knowledge appetite of the series.
Hq Seinfeld trivia questions and answers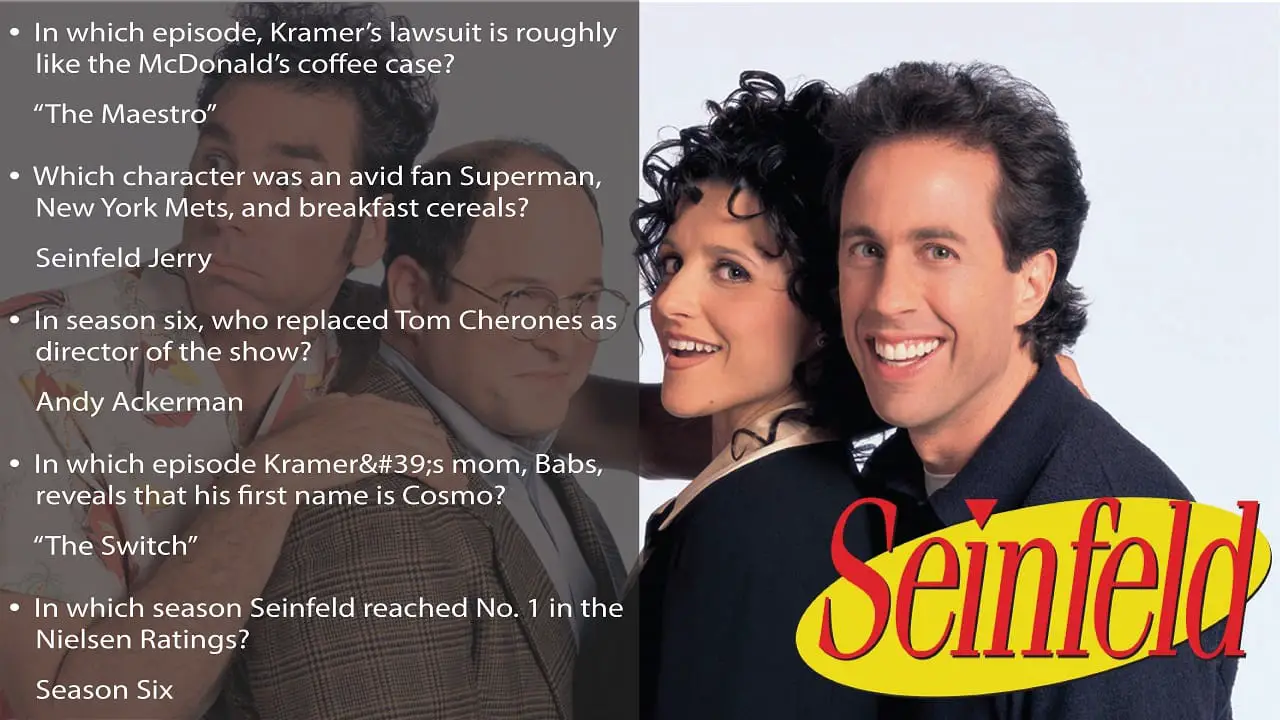 51) Which participant of Seinfeld secures a steady career as Assistant to the Traveling Secretary for the New York Yankees?
52) In which episode, Kramer's lawsuit is roughly like the McDonald's coffee case?
53) Which character was an avid fan of Superman, New York Mets, and breakfast cereals?
54) What was the actual name of the restaurant, which was used as the exterior image of Monk's Café in the show?
55) What was the reason that season two of the show bumped off its scheduled premiere of January 16, 1991?
56) Who wrote an episode of season two, "The Bet", in which Elaine buys a gun from Kramer's friend?
57) In season six, who replaced Tom Cherones as director of the show?
58) In which episode Kramer's mom, Babs, reveals that his first name is Cosmo?
59)In which season Seinfeld reached No. 1 in the Nielsen Ratings?
60) In which episode of the second last season, Kramer's parody of Kenny Kramer's Reality Tour seen?
Want to know about holiday trivia?: 50+ Holiday Trivia Questions and Answers
Seinfeld trivia pdf
61) To what Kramer converts his apartment in the episode "The Merv Griffin Show"?
62) With whom Elaine has an on/off relationship in the last season's story arc?
63) What was the major controversy caused in the final season?
64) When did Seinfeld award the Emmy for Outstanding Comedy Series?
65) Which digital media company named Seinfeld the greatest TV show of all time in 2002?
66) Which entertainment channel released all nine seasons of Seinfeld on DVD in Regions 1, 2, and 4 between 2004 and 2007?
67) In which country, the first complete series boxset was released on 24 October 2007?
68) On 14 November 2018, which Edition was released that contained napkins and cups, playing cards, and thumb wrestle gadgets?
69) What is the signature of Seinfeld?
70) Which of the main character at times, appears naïve, uneducated, and impulsive, and at other times, quick-witted, helpful, and empathetic?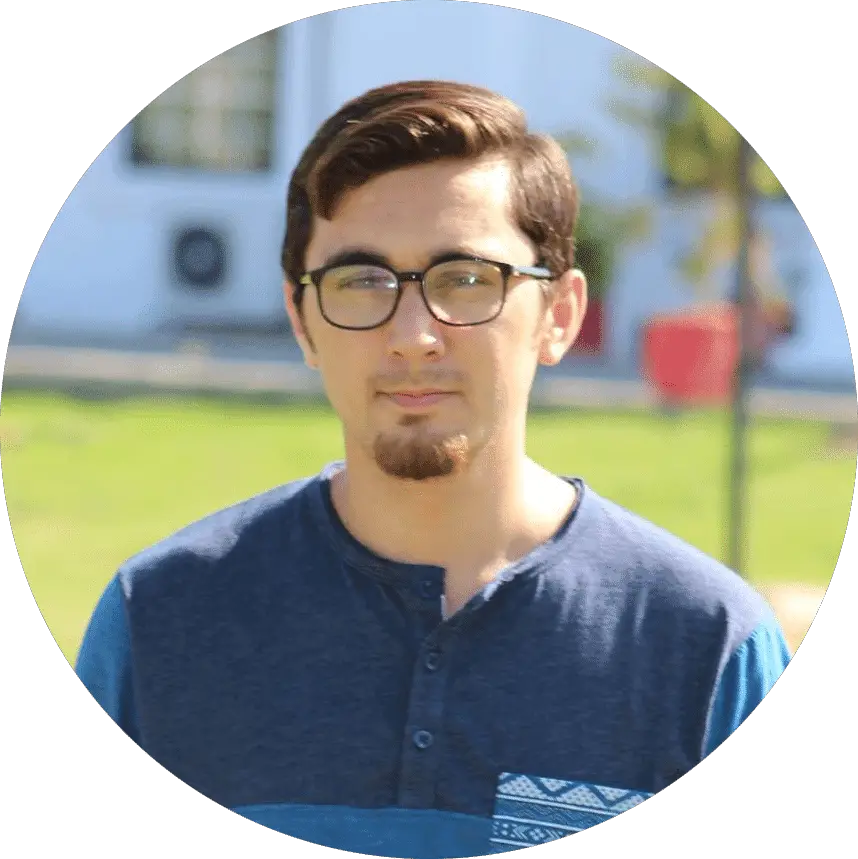 A computer graduate who has 16 years of education and 5 years of working experience in the field. I am a professional writer also and can write amazing articles in the following categories: sports, movies, and animals.