Literature in general means any writing with an artistic manner in any language. It includes stories, plays, poems, song lyrics, etc. The majority of the people are found to be very interested in literature and various literature subjects are also offered overall the world in schools, colleges, and universities. Therefore, in this post, we have tried to give more knowledge of literature in an easy and simple way. These are 60+ Literature trivia questions that can help you to boost your literature knowledge. It includes trivia questions related to American, Canadian, and Philippine literature.
Literature Trivia Questions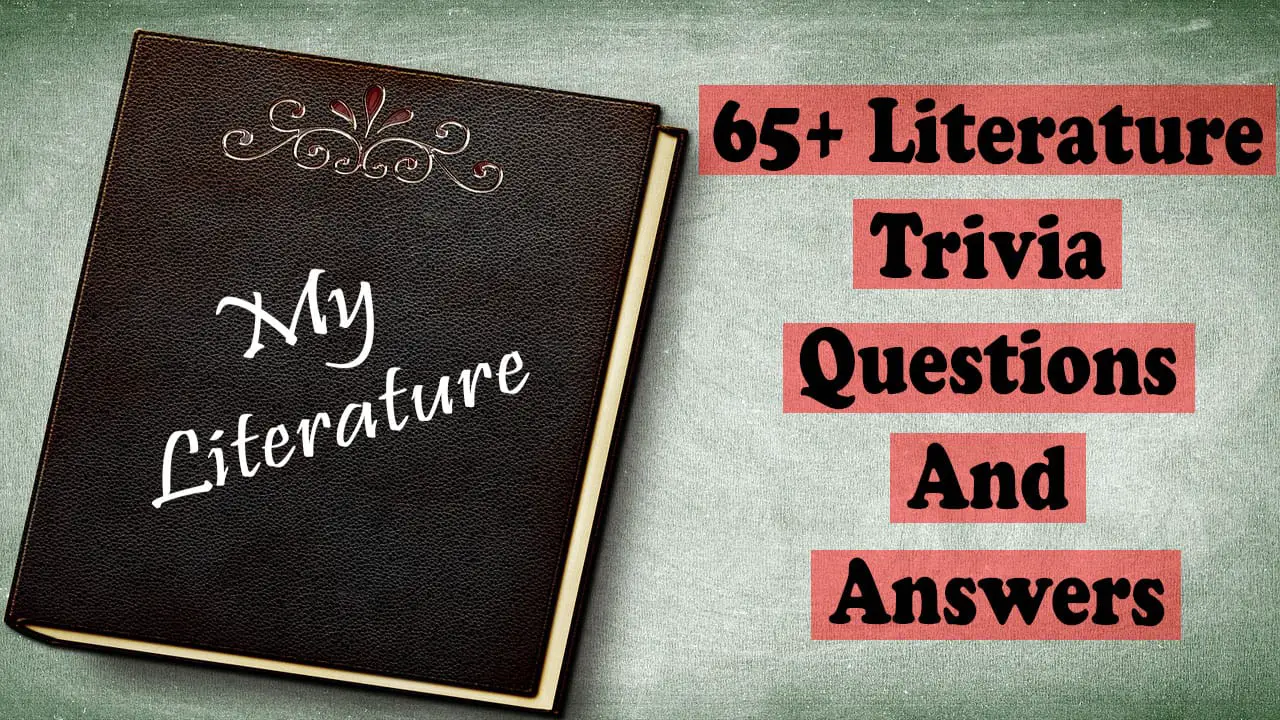 1. What does literature generally means?
2.What are the main things included in literature?
3. What are the world's oldest literatures?
4. In how many categories literature courses are divided usually?
5. When was the first Egyptian writing came?
6. What are the first three major periods of English literature?
7. Name some famous writers of English literature?
8. From where the famous writer William Shakespeare belongs to?
9. How old English literature is?
10. What does hieroglyphics means?

Here are some more exciting facts to know about the literature of various countries such as different time periods of literature, categories of Canadian literature, etc.
Literature Trivia Questions and Answers
11. What does the symbols ideogram represent?
12. What was the period of the Middle Kingdom in literature?
13. What was the time period of the 16th Century Renaissance?
14. Who was the most popular and influential writer of the Middle English literature period?
15. When the English literature produced?
16. In which two categories the Canadian literature is divided?
17. How the first writers of Canada recorded their impressions of British North America?
18. Who were the initial writers of the country?
19. Who wrote 'A Journey from Prince of Wales's Fort in Hudson's Bay to the Northern Ocean'?
20. In which book the explorer 'Sir Alexander Mackenzie' described his travels?
These literature trivia questions focus on the High school students who especially opt for literature subjects in their curriculum. These can help them to attain better performance in their studies.
Literature Trivia Questions for High Schools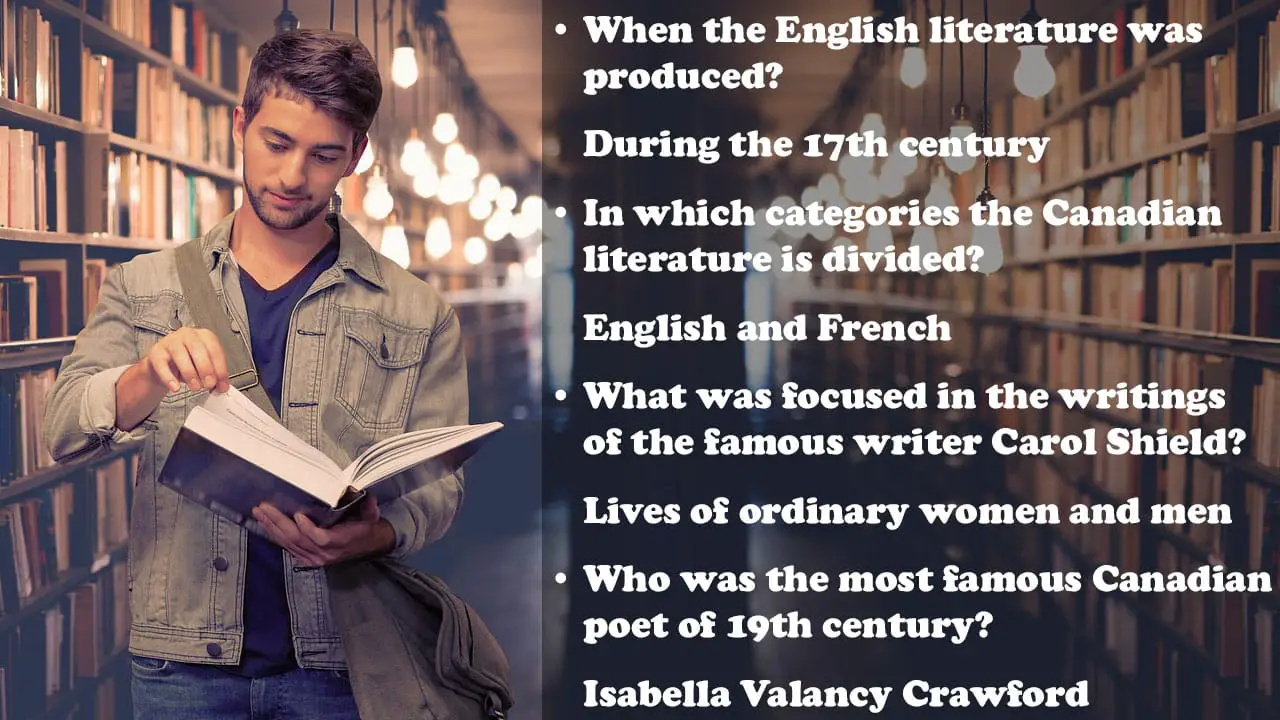 21. What were the earliest poems in Canadian literature includes?
22. How the American literature begins in the United States during 17th century?
23. Who is credited as the initiation of American literature?
24. On which topic most of the American writers stressed upon?
25. What aspects were included in the utilitarian writings of the 17th century?
26. When the Dominion of Canada was created?
27. Who was the most famous Canadian poet of 19th century?
28. When did the first important female Canadian poet 'Isabella Valancy Crawford' was born?
29. What was the name of the famous children's book by Lucy Montgomery in 1908?
30. What was focused in the writings of the famous writer Carol Shield?
Want to know about Disney princess?: 55+ world trivia questions and answers
These literature trivia questions and answers will provide some basic information about American literature, its history, writers and poetries etc.
American Literature Trivia Questions and Answers
31. During 1600s what the American literature consist of mostly?
32. When the histories of Virginia written by John Smith was published?
33. What was the earliest poetry collection about America?
34. Who wrote the Federalists Papers?
35. Who wrote the first African American book 'Poems on Various Subjects, Religious and Moral?
36. What was the first American novel?
37. When the book was published?
38. Who wrote the autobiography 'The Interesting Narrative'?
39. Who was the most influential political writer during and after the 18th century war?
40. Name some poems of the most memorable American poet 'Philip Freneau'.
Do you know children's literature is also known as Juvenile literature? These literature trivia questions will provide such type of new information on children's literature. It emphasis particularly on the stories, poems, books for children.
Children's Literature Trivia Questions and Answers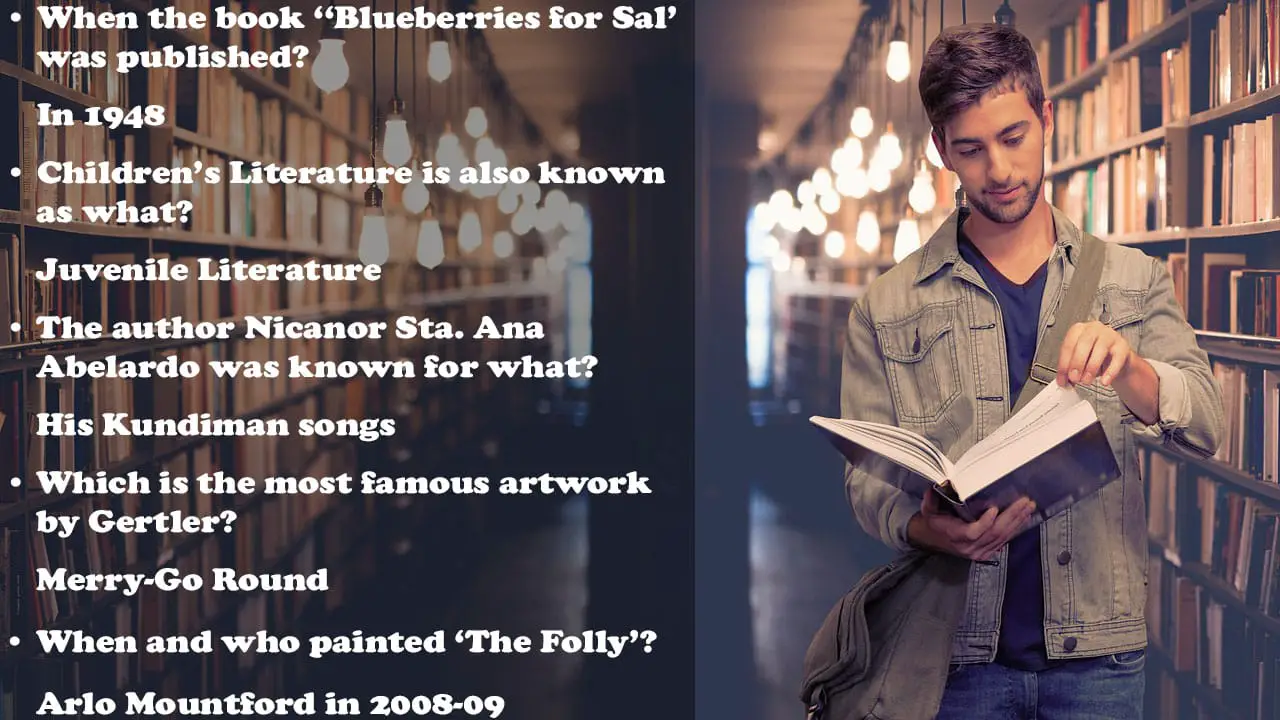 41. Who wrote the book for children 'Where the Wild Things Are'?
42. What thing was focused in the successful children's story 'The Snowy Day'?
43. What is the name of the book written by Margaret Wise Brown and illustrated by Clement Hurd?
44. What does the illustrations by Robert McCloskey shows in 'Blueberries for Sal'?
45. When the book "Blueberries for Sal' was published?
46. Children's Literature is also known as what?
47. What is 'Genre'?
48. Who wrote the book 'Little Bear'?
49. In which children's story the tale of a tree gives its life for a boy?
50. Name the writer of the book 'The Giving Tree'?

The Philippines literature is another interesting part of literature to know about. These trivia questions will provide some easy questions and answers about Philippines literature.
Philippines Literature Trivia Questions and Answers
51. How many time frames are there of Philippines literature?
52. Short poems with four lines and seven syllables each are known as what?
53. Name some religious writings of Philippine's literature?
54. The author Nicanor Sta. Ana Abelardo was known for what?
55. Which famous theater and building housing were named in his honor and memory?
56. Who wrote the novels 'Noli Me Tangere' and 'El Filibusterismo'?
57. What was the story of book 'Noli Me Tangere' about?
58. What is 'Awit'?
59. Who wrote the book 'Florante At Laura'?
60. Which Filipino writer was recognized as National Artist of Philippines in 1976?
Who know art and literature are interlinked as both depends on each other? These art and literature trivia questions will show how they are related and give knowledge about various arts as well.
Art and Literature Quiz Questions
61. How art and literature are linked?
62. When and who painted 'The Folly'?
63. The painting 'Merry-Go-Round' is from which collection?
64. What is the goal of an expressionistic writer?
65. Which is the most famous artwork by Gertler?
66. When did the sculpture 'The Gates of Hell' was modelled?
67. Who created 'Ophelia' the character depicted in Shakespeare's Hamlet?
68. The painting 'Procession of Characters from Shakespeare's Plays' is from which collection?
69. How many Darling children were there in J. M. Barrie's 'Peter Pan'?
70. Who wrote the novel 'Gone with the Wind'?
71. Which poem is written by John Keats to a singing bird?
72. How many ghosts visited Scrooge in 'A Christmas Carol'?
73. Who is Harry Potter's best girl friend?
74. Who was Wendy in the Peter Pan?
75. Who wrote the novel 'The Chronicles of Narnia'?
76. Who wrote the book 'Of Mice and Men'?
77. When the book was originally published?
Want to know about Disney princess?: 60+ video game trivia questions and answers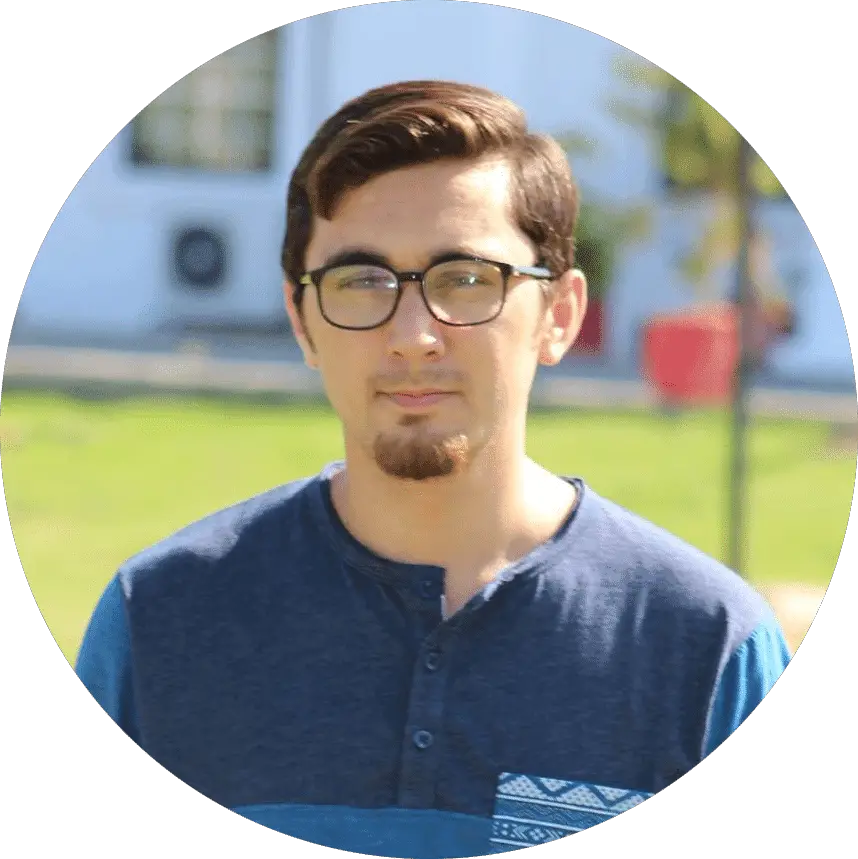 A computer graduate who has 16 years of education and 5 years of working experience in the field. I am a professional writer also and can write amazing articles in the following categories: sports, movies, and animals.