Welcome to the logo trivia. In this trivia, we're trying to give you information regarding the logo. What logo is some history of it, some famous logos of the past, and much more? The first portion includes the introduction of the logo, some story behind it, some basic tools use to design a logo, some famous designers of the history, etc. Go through it, will help to increase your general knowledge.
Logo Trivia Questions
1. From which language the word 'Logo' derives from?
2. Logo is an abbreviation of?
3. Logo is defined as?
4. What is the aim to use a logo?
5. What is hot metal typesetting?
6. Example of hot metal typesetting?
7. What is ligature?
8. Many company's logo is today often synonymous with its?
9. What is the Victorian decorative arts?
10. The first logo to be trademarked was?
11. This first logo was designed in?
12. The current era of logo design began in the?
13. Ideogram is?
14. Emblem is?
15. Combination of sign and emblem?
Logo trivia questions and answers
16. Branding can aim to help?
17. The first pioneer of designing?
18. What did Chermayeff & Geismar do?
19. Famous logos of Chermayeff & Geismar?
19. Second pioneer of designing?
20. Who is Paul Rand?
21. What Paul's designed?
22. The third pioneer of corporate identity design is?
23. Bass was responsible for?
24. Why development in the documentation of logo design is important?
25. What is the key element in logo design and plays an important role in brand differentiation?
26. Why color is important in logo designing?
27. Which color is considered important to brand recognition and logo design?
28. In which state, red, white, and blue are often used in logos for companies?
29. Why these colors are used?
30. Before a logo is designed, there must be a clear definition?
Want to know about Disney princess?:  65+ Buffalo Wild Wing Trivia Questions
Logo trivia printable
31. In 1898, the French tire manufacturer Michelin introduced?
32. What is Michelin Man?
33. Large corporations such as MTV, Nickelodeon, Google, Morton Salt, and Saks Fifth Avenue had adopted which logos?
34. 33% of the top 100 brands use which color in their logo?
35. In 1957, which two most popular fonts for the logo created?
36. How many fonts in logo designs are advised for designers to use?
37. 7 types of logo designs exist in the world. Name them?
38. How many colors are generally used to create brand logo designs?
39. In just how many milliseconds the visual elements of logo design are processed in the visual cortex of our brains?
40. How many principles of design in total exist when it comes to designing a logo?
41. Baskin Robbins is depicted in its logo design by cleverly using numbers to create initials. That number is?
42. In 2000, which was a popular logo design trend?
43. For continuously 227 years, which has used the same capitalized font with a lion crest in their logo?
44. How many types of lions have been spotted since 1917 in the MGM Studios mascot logo?
45. Levi's first used its logo design in?
This portion of trivia includes questions related to history, some facts regarding logo designing. We also mention some past logo's prices in order to get the information from you. This will help you to differentiate between pasts prices about logos and today's market price. How many of you know about who created McDonald's, Google, Coca-Cola logos? Let's read it and find the answer to these.
Logo trivia with answers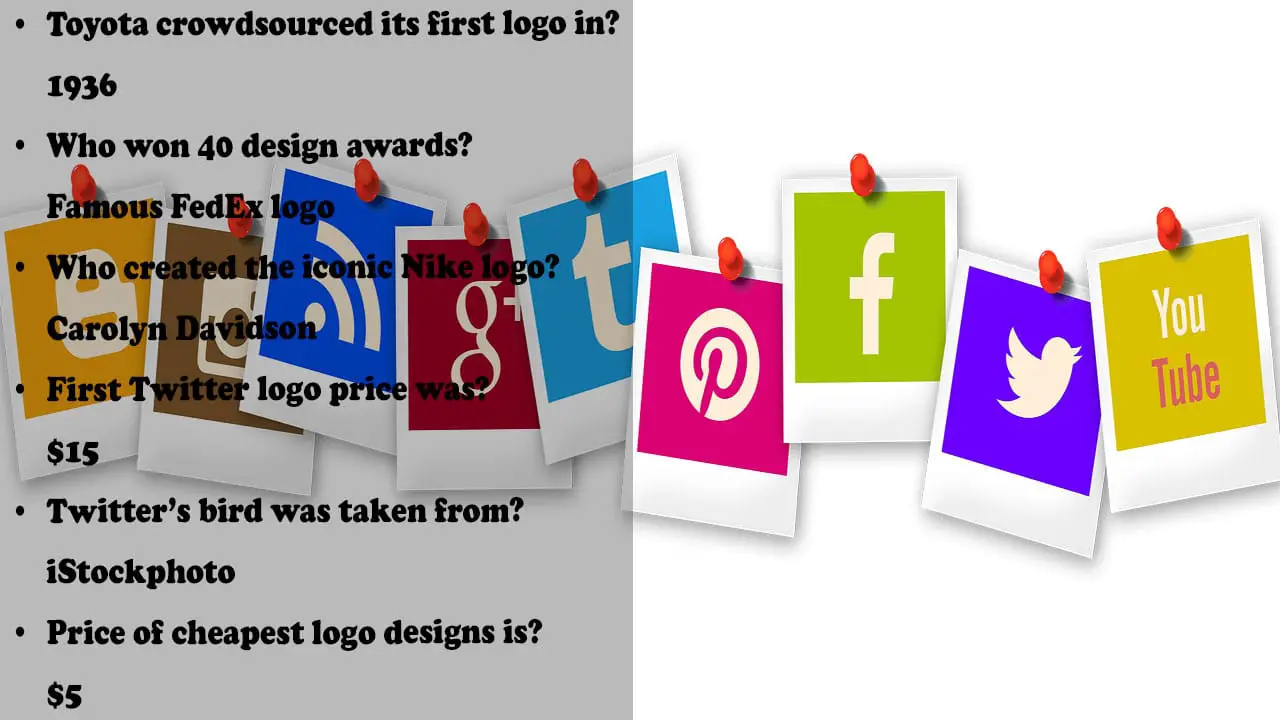 46. The 1977 which logo was multicolored to sell that Macs had colored screen?
47. In 2000, who hired illustrators to redesign its logo for holidays and events?
48. How many months needed to get your business logo trademarked by an authority?
49. Until the 1980s, which law refused to recognize a single color as a brand?
50. How many dollars are charged to submit the basic logo trademark application?
51. How many years the shelf-life of a logo's trademark?
52. In 2008, who was sued by Apple for using the icon of an apple in its logo?
53. Toyota crowdsourced its first logo in?
54. Who received 600 regional, national, and international graphic design awards?
55. Who won 40 design awards?
56. Who created the iconic Nike logo?
57. The total cost of designing the 2008 minimal Pepsi logo was?
58. The First Twitter logo price was?
59. Twitter's bird was taken from?
60. Recognized wordmark logo of Johnson & Johnson was first used in?
Logo trivia cool math games
61. What should be the maximum size of a social media logo design?
62. What is usually the size of a logo design artboard?
63. What should be the minimum height of a logo for a website?
64. What should be the file size of your logo if you're posting it online?
65. What is the starting price of a good professional logo design?
66. The price of the cheapest logo designs is?
67. How much time is spent on creating a logo in the logo maker on average?
68. How many sketches are made for a single logo design on average?
69. What was the cost of the NeXT Computer logo designed by Paul Rand for Steve Jobs?
70. Out of 1,200 submissions, 20 entries won in which awards?
Logo trivia board game
71. General Electric logo was first introduced in?
72. Pepsi Globe logo resembled the Taegeuk symbol that is widely used in?
73. The First Apple logo was designed by?
74. McDonald's hired a psychologist who suggested the golden arches "M" for the logo. Name?
75. The first multi-colored Google logo was designed by?
76. Sergey designed a multicolored Google logo with the help of using it?
77. Coca-Cola wordmark has remained intact for over?
78. Which was the most controversial and hated logo of the decade?
79. Uber logo created by?
80. The current Columbia Pictures logo was digitally created by the artist?
Here in this part of trivia, we are mention some famous logos and their creators. Some amazing information also included in this part. Moreover, as you know there is a hidden meaning behind every logo, so in the last part, we are also adding some logos and their hidden meanings. Hopefully, you all are like to read this.
Brand quiz 2019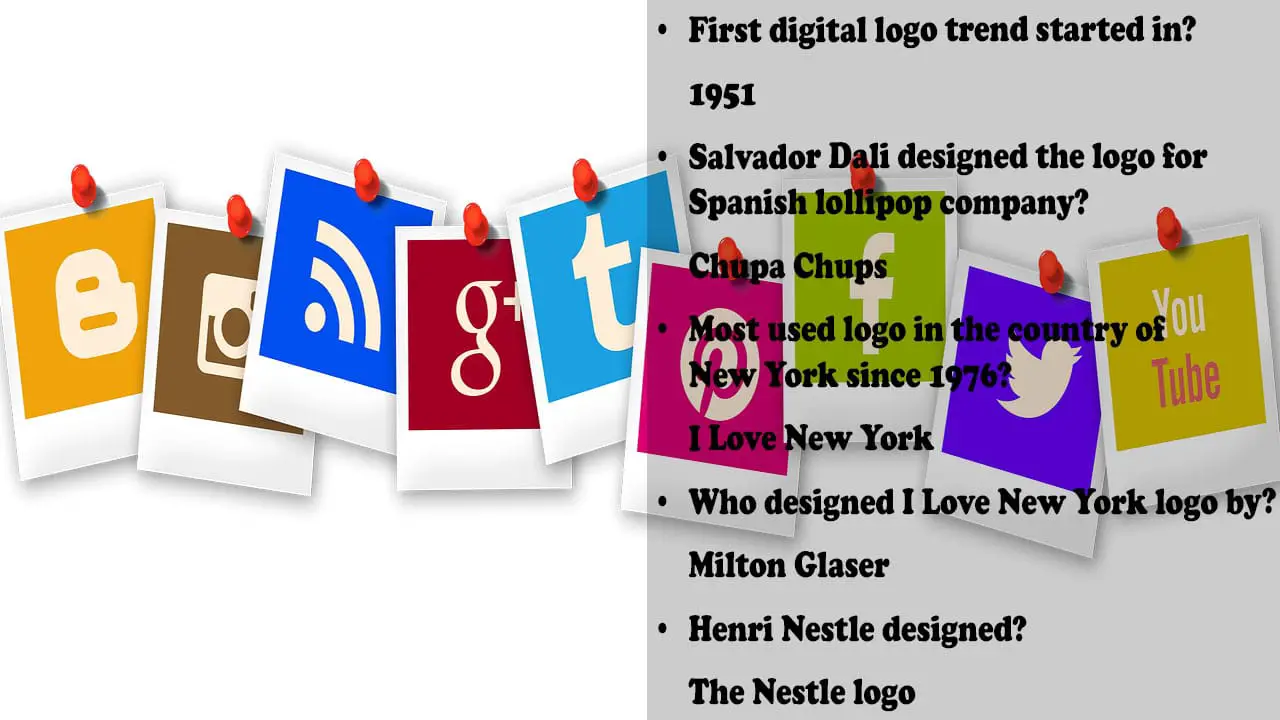 81. Famous stallion in the Ferrari logo can be traced back to 1692 at the time?
82. First digital logo trend started in?
83. 1960's London-based design agency who re-introduced pictorial symbols in branding?
84. Salvador Dali designed the logo for the Spanish lollipop company?
85. Who designed the first BP logo that won in a company competition?
86. Who designed the Toys for Tots train logo and its poster?
87. Most used logo in the country of New York since 1976?
88. Who designed I Love New York logo by?
89. Which was the brainchild of filmmaker Steven Spielberg?
90. Henri Nestle designed?
Guess the brand logo
91. Microsoft logo depicts how many colors?
92. Blue square represents?
93. Red represents?
94. Green represents?
95. Yellow represents?
96. Which the only brand which has an ever-changing logo?
97. Which logo is a symbol of progressive growth in the area?
98. In the Korean language, Samsung refers?
99. Homnda logo depicts?
100. Petro China logo depicts?

Logo games
101. Colgate logo has a combination of?
102. The red signifies?
103. White stand for?
104. Batman logo depicts a bat with yellow wings representing?
105. Subway logo has two arrows on S and Y, visualizing?
106. Motorola logo's color depicts?
107. Lacoste logo comes from the bet between?
108. Crocodile in the logo depicted?
109. The National Geographic logo is simple but strong. The rectangle in yellow depicts?
110. Door opening to a sea of knowledge in?
111. The use of yellow depicts?
112. Fire in the shape of a fox shows to engulf the world depiction?
113. Nestle's logo gives the meaning of its?
114. Amazon's famous logo design shows?
115. In the Panasonic logo, blue stands for?
116. Mitsubishi logo design shows 3 diamonds, representing?
117. Museum of London logo illustrates?
118. Rolex logo portrays the meaning?
119. Unilever logo has a big "U" in its logomark. Does this describe?
120. BBC logo depicts?
Want to know about Disney princess?: 100+ star trek trivia questions and answers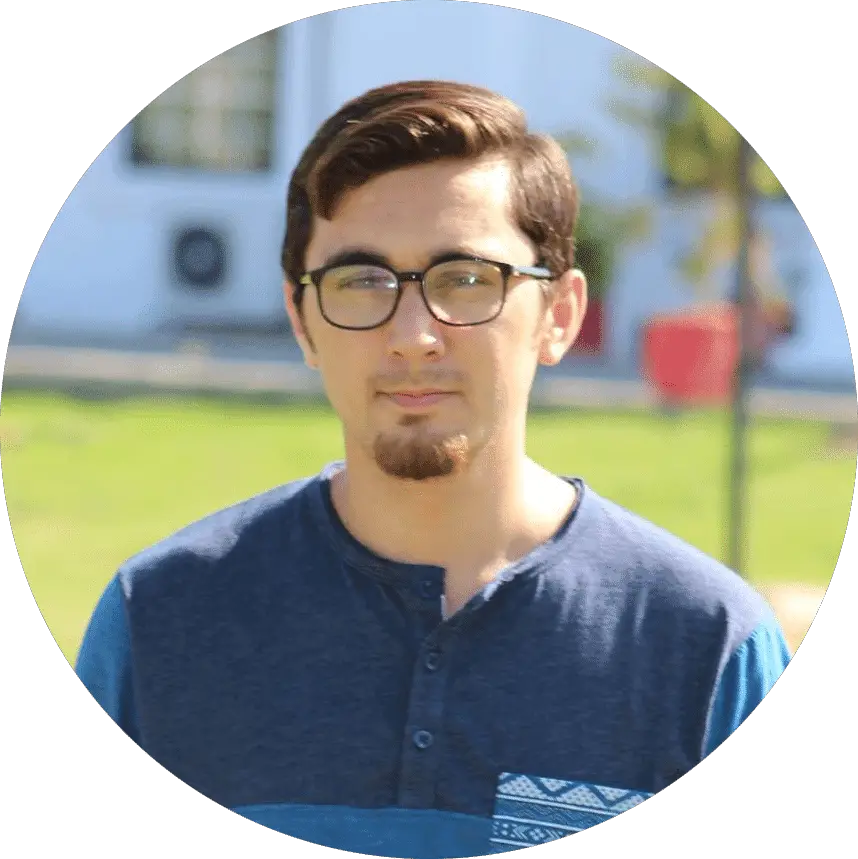 A computer graduate who has 16 years of education and 5 years of working experience in the field. I am a professional writer also and can write amazing articles in the following categories: sports, movies, and animals.